Xiaoli Duan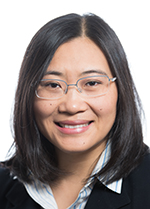 Pacific Northwest National Laboratory
PO Box 999
Richland, WA 99352
Send Email
Biography
Ms. Duan is a research scientist at the Pacific Northwest National laboratory (PNNL). Her primary research focuses on building and appliances energy efficiency. Her focus projects include energy, water and waste performance evaluation for the U.S. army reserve centers and large military sites, DOE's Appliance and Commercial Equipment Standards Project, and connected smart buildings projects. Ms. Duan joined PNNL in 2010 from the Science Sector of the United Nations Educational, Scientific and Cultural Organization (UNESCO), where she worked as an Assistant Program Manager. She managed and supported three major projects at UNESCO including Ecologic Research to Sustain China's Environment (ERSCE), East Asian Biosphere Reserve Network (EABRN) and Sustainable Water Integrated Management (SWIM).
Research Interests
Energy efficiency technology analysis and economics
Building energy efficiency and automation
Energy efficiency regulatory development
Sustainable water and energy management
PNNL Publications
2013
McMordie Stoughton K, X Duan, and

EM Wendel

. 2013. Reverse Osmosis Optimization.

PNNL-22682

, Pacific Northwest National Laboratory, Richland, WA.