Jennifer Williamson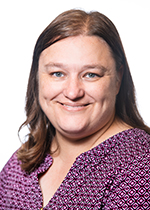 Pacific Northwest National Laboratory
PO Box 999
Richland, WA 99352
Send Email
Biography
Since 2009, Jennifer Williamson has provided engineering support to various energy efficiency projects. For DOE's Appliance and Commercial Equipment Standards (ACES) program, Jennifer has contributed technically to the development of test procedures, including plumbing products, circulators, and pumps. As a project manager, she led the ACES rulemakings for commercial prerinse spray valves and plumbing products. For the DOD Comprehensive Energy and Water Evaluation program, she assists teams as a building auditor, with expertise in data gathering and in modeling data using the PNNL FEDS software to determine life-cycle-cost-effective energy and water conservation measures.
Prior to joining PNNL, Jennifer worked for 10 years as a mechanical engineer on the analysis of buried piping systems, remote storage and retrieval systems, and design of building mechanical systems.
Research Interests
Energy and Water Security
Development of Test Procedures and Energy Efficiency Standards for Appliances
Assessment and Modeling of Building Energy and Water Use
Regulatory and Technical Writing
Education and Credentials
M.B.A., Business Administration, Northwest Nazarene University
B.S., Mechanical Engineering, University of Idaho
Certified Energy Manager
Association of Energy Engineers (AEE) CEM Exam Development Committee Member
PNNL Publications
2012
2011
2010
2009
Baechler MC, TL Gilbride, MG Hefty, JL Williamson,

KA Ruiz

, R Bartlett, and PM Love. 2009. Building America Best Practices Series, Volume 9: Builders Challenge Guide to 40% Whole-House Energy Savings in the Hot-Dry and Mixed-Dry Climates .

PNNL-18899

, Pacific Northwest National Laboratory, Richland, WA.